Kerala is known as God's Own Country for a reason. The very land—blessed by life-giving rains and rich, fertile soil—bestows gifts upon its people, much like the abundant blessings of the divine power. And where there is harmony between land and its people, there are deep-rooted traditions and practices.
Preparing Ventha Velichenna is one among them.
In many parts of the state, large families still live together—some four generations of people under a roof. Ask the matriarch—the great-grandmother—about Ventha Velichenna, and she will tell you, misty-eyed, that her grandmother used to make the oil. She was given the oil to consume each time she conceived, in the belief that the oil would stabilize the size of the life growing within her, ultimately leading to a relatively comfortable delivery.
There's more. She will tell you that all her children were given the oil to be applied on themselves, as well as to consume in small quantities.
In the age of production-at-scale, technology-first efficiencies and instant gratification, the intricate art and laborious process of crafting Ventha Velichenna is at a risk of fading, and fast.
That is why we hold onto the age-old wisdom of our land, the generational trust in an heirloom recipe, and the oil itself—an epitome of the patient and nurturing love of our mothers, grandmothers and great-grandmothers.
What is Ventha Velichenna?
Ventha Velichenna or Urukku Velichenna is hot-processed virgin coconut oil prepared in the traditional Kerala method. The Malayalam term translates to 'boiled coconut oil'.
This oil is made by heating coconut milk at a consistent temperature, until the water content evaporates, leaving behind pure oil.
The coconut milk is heated in a traditional bronze vessel called uruli, which is believed to impart additional beneficial properties to the oil. The coconut milk is continuously stirred for hours as it heats, adding the labour of love to the method.
In time, the oil separates from the solids, resulting in nature's elixir—a mildly flavoured, gently aromatic oil that's rich in fatty acids and antioxidants.

It takes 10 coconuts from our farm to extract just 250 ml of the oil!
The Art of Ventha Velichenna
Pre-Cooking

Only the best of the matured coconuts from our farm are plucked to make this oil. They undergo a de-husking process, followed by slitting of the coconuts to remove the shells.

Next, the testa is peeled and removed, to get to the storehouse of the coconut milk—the meat.

The coconut pulp or meat is crushed to extract coconut milk, which is then filtered to remove traces of testa and other unwanted bits.

Cooking of the Milk

This is where the magic happens. Unlike a magic trick, the process requires hours, patience, and the right skill.

The freshly extracted and filtered coconut milk is heated at a steady temperature—hot enough that the water content evaporates, but not so hot that the oil burns—in a large bronze vessel. The coconut milk is also continuously stirred during the process.

Decanting & Filtration

As the water evaporates from the coconut milk, the oil separates from the milk solids. This oil needs to be decanted at the right time, and in the right way.

The penultimate step is to filter the oil one last time. Fresh Ventha Velichenna—Kerala's beloved oil—is now ready to be used and consumed.
What makes Ventha Velichenna so good?
The intricate process results in a pure, hot-processed virgin coconut oil unlike any other—light and golden hued, with a distinct yet mild flavour, and the subtle, nutty aroma of coconuts. The latter is our favourite, reminiscent of childhood spent on the farm.
Pure hot-processed virgin coconut oil is loaded with natural goodness. Rich in antioxidants and fatty acids, Ayurvedic experts say that the lauric acid content in this oil is second only to breast milk.
Its properties make the oil an all-rounder, and an essential household item—be it in your kitchen, diaper bag or vanity kit.
Ventha Velichenna can be added to baby food and/or consumed by breastfeeding mothers to help develop immunity, and aid in the overall development of their little one
The gentle and safe oil makes for a great skincare and haircare oil for babies and adults alike. Its non-sticky and non-staining properties only elevate its standing on the dressing table
Regular ingestion of pure hot processed virgin coconut oil can help prevent memory loss and delay the onset of Alzheimer's, as testified by experts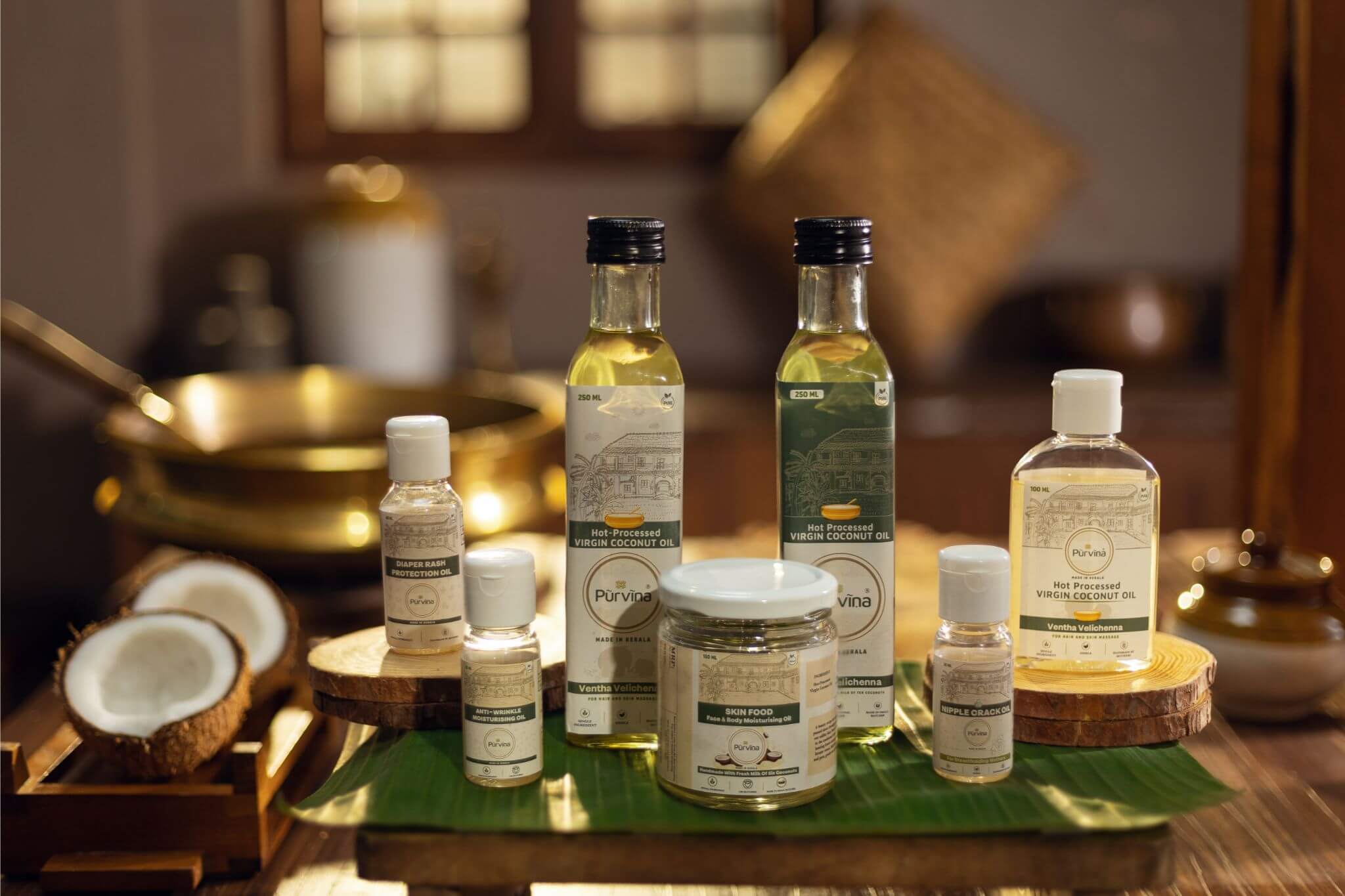 How can I use Ventha Velichenna?
Start your day by consuming 15 ml of the oil, for overall benefits
Do oil pulling in the morning or at bedtime, to improve oral health
Oil your scalp before bath, and apply the oil on your face and neck after bath
Massage it into your skin at the end of the day, to melt away makeup, dirt and grime, before washing it off
Apply on sunburns and rashes, to naturally soothe your skin
Apply as a post-shave/waxing remedy, to reduce redness and irritation
Leave it on as an overnight skin or hair mask
Use it to gently massage your baby's sensitive skin and hair
Apply it on sore and cracked nipples, if you're breastfeeding. It aids in healing and repair, and because it's super-safe for consumption, you don't need to wipe it off before each feed
Add as garnish to your salads and coconut-based curries
Hot-Processed vs Cold-Pressed Virgin Coconut Oil
This has been a hotly debated topic in the realm of coconut oil, and here's our take on it.
What is the difference between hot-processed virgin coconut oil, and its cold-pressed counterpart?

They are different processes of extracting coconut oil, and both have their own uses and applications. While the mainstream cold-pressed virgin Coconut oil is machine-made out of coconut milk using a centrifugal process, hot-processed virgin coconut oil or Ventha Velichenna is handmade by boiling fresh coconut milk in a traditional bronze vessel, stirring continuously for hours, at a steady temperature.
How different are the oils?

Hot-processed virgin coconut oil has a naturally golden hue, reminiscent of the warm glow of our sun-kissed farm at dawn. The oil has a subtle, nutty aroma that is both delicious and comforting to the senses. At Pūrvīṇa, we produce Ventha Velichenna in small batches, to preserve its freshness.

Cold-processed virgin coconut oil, on the other hand, is nearly colourless, almost water-like in appearance. It has little aroma in its body, and is typically produced in large batches.
Which one is the better oil?

We're not ones to take sides, because we believe both methods and outcomes have uses and applications.

That said, we're partial towards Pūrvīṇa's handmade and mom-made pure hot processed virgin coconut oil, as are most of our customers!
Our Ventha Velichenna Collection
Praises for Ventha Velichenna
"It's just amazing. Oh! I never knew the pure smell of coconut oil will be like this! It's so pure and made authentically."

- T.S. Rajendra Kumar

"A very lightweight and amazing skin oil. Gets easily absorbed and gives amazing results. I've already got my second lot. No added fragrance and is a pure coconut oil for skin. Can replace the most expensive serums and chemical moisturisers!"

- Amazon customer

"I've been forever struggling with itchy, painful, dry and sore nipples because I exclusively breastfeed my twin girls. A friend recommended this coconut oil made from coconut milk. I apply some after each feed religiously. Sore nipples are history now!"

- Amazon customer